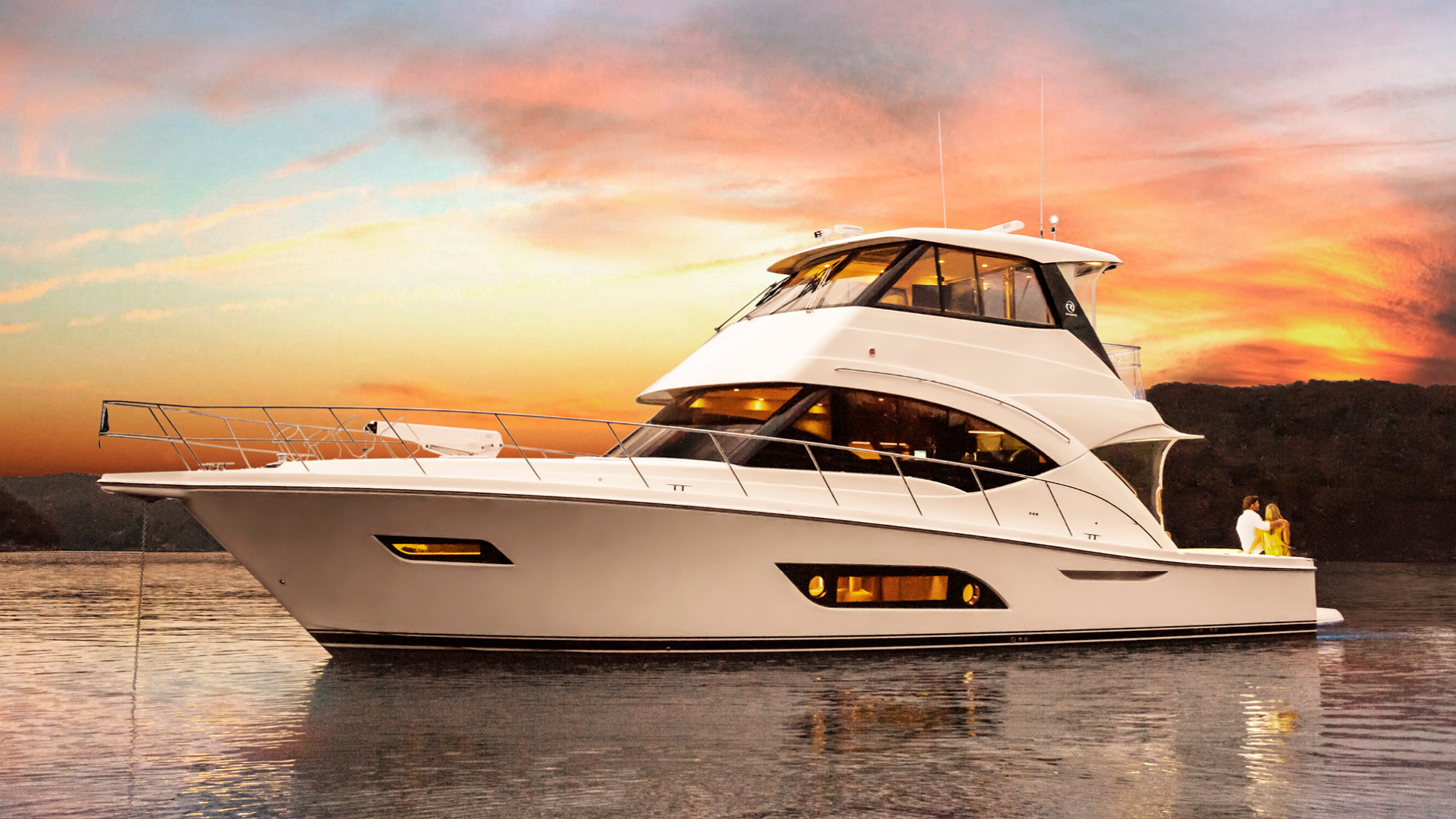 57' ENCLOSED FLYBRIDGE
57 ENCLOSED FLYBRIDGE
A whole other level of performance, lifestyle and accommodation. The sensational Riviera 57 Enclosed Flybridge. A whole other level of luxury motor yacht cruising. Three levels in fact…
With free-flowing alfresco living, superior three stateroom, two bathroom accommodation and a soaring, magnificently equipped flybridge. The innovative Volvo Penta Integrated Propulsion System (IPS) will power your idyllic escapes.
---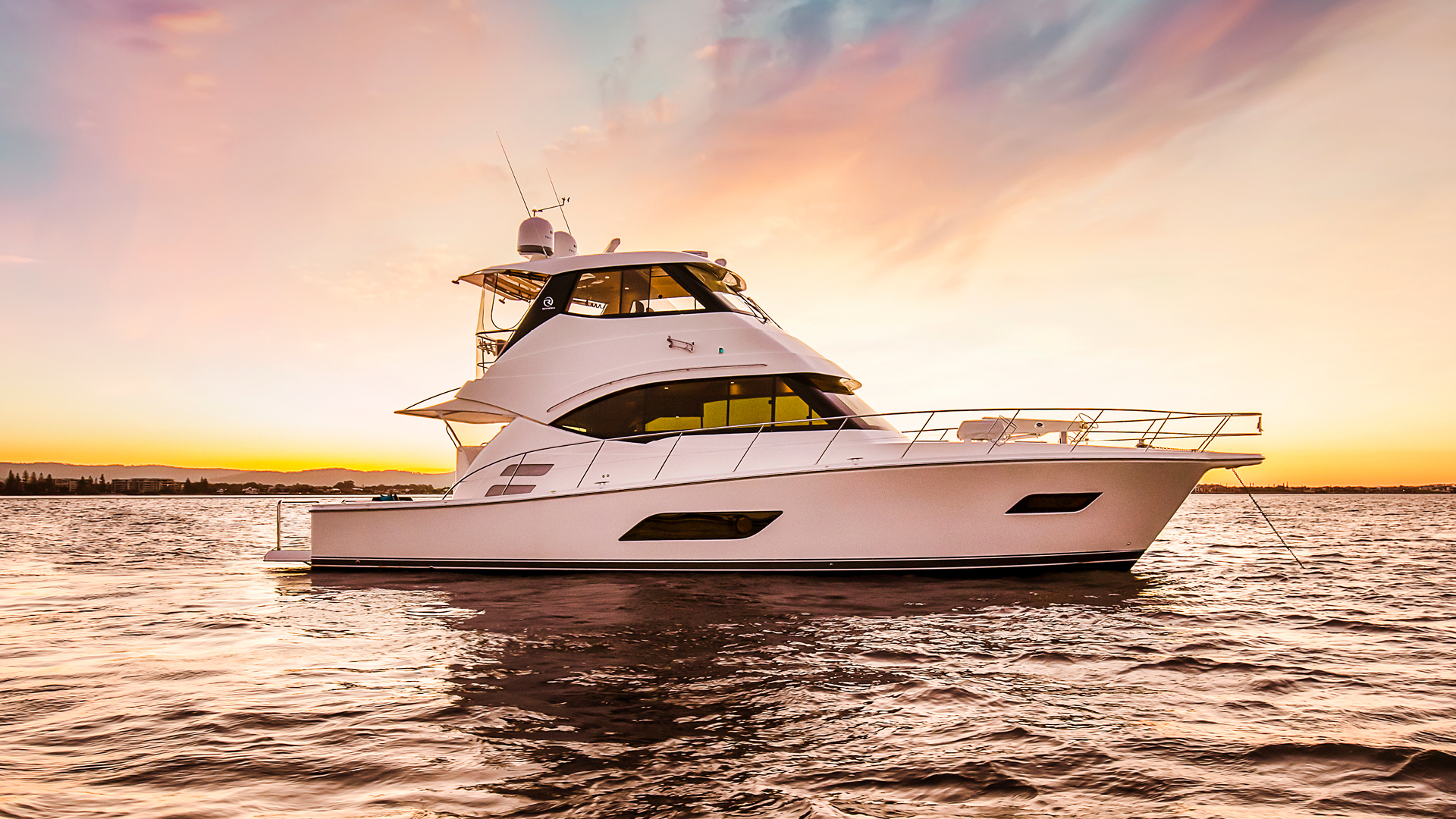 52 ENCLOSED FLYBRIDGE
52' ENCLOSED FLYBRIDGE
A sophisticated design exuding effortless power. Rare seafaring affinity and operational ease. Uncompromising Riviera quality and attention to detail throughout.
Flowing saloon and cockpit space, three staterooms, two bathrooms, spectacular luxury flybridge with internal staircase access, embracing the world's easiest joystick helm maneuverability and control with Vovlo Penta Glass Cockpit Navigation and silky smooth Volvo Penta Integrated Propulsion System (IPS) power.
---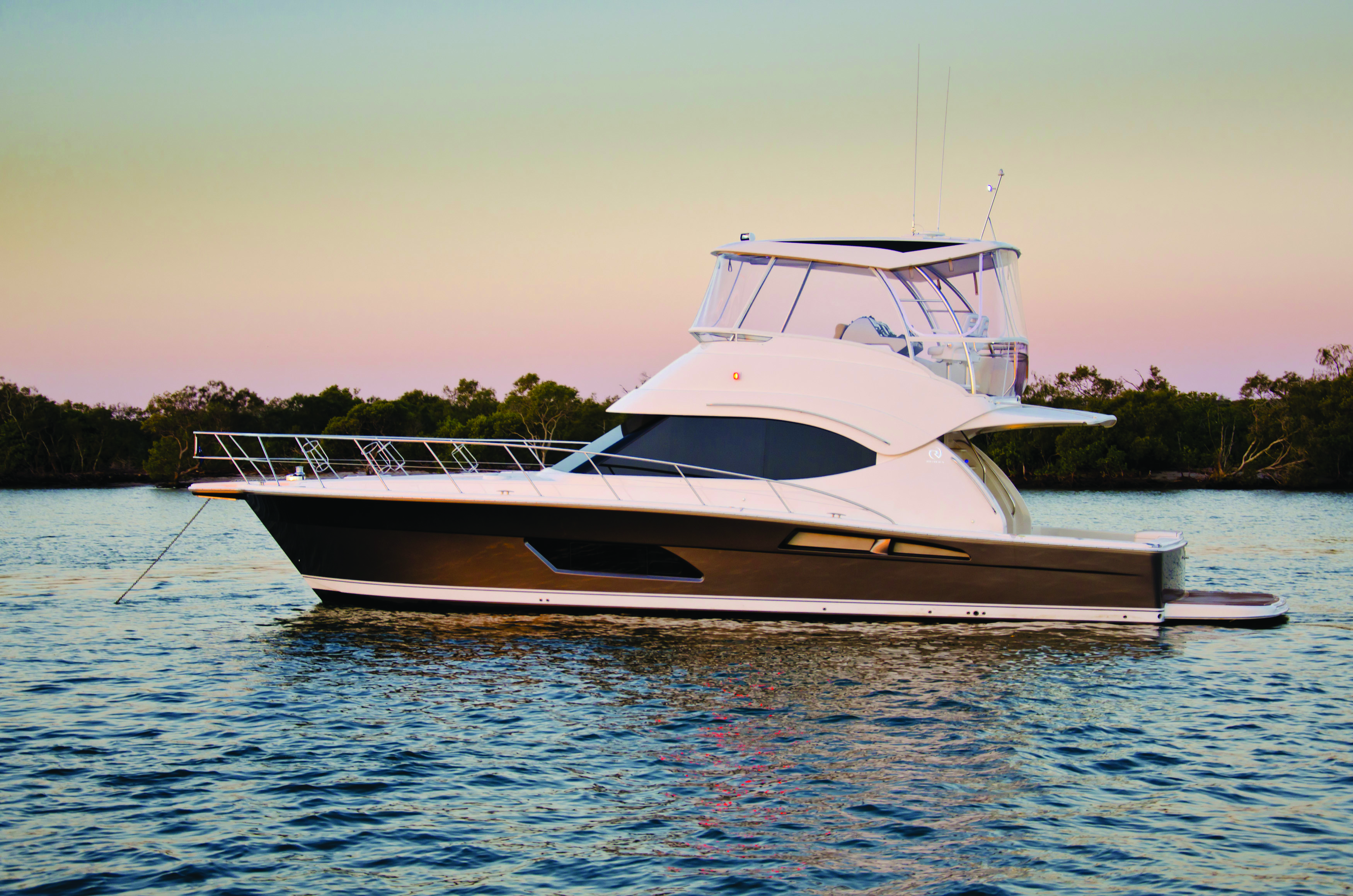 45' RIVIERA OPEN FLYBRIDGE
45' RIVIERA OPEN FLYBRIDGE
She is a born adventurer, spirited voyager, entertainer and freedom seeker. And she does it all in absolute luxury, powered by silky smooth twin diesel engines that are a real pleasure to command.
Your 45 Open Flybridge offers you the option of outfitting the cockpit for family cruising or serious fishing. Either way, you'll revel in the luxurious flowing alfresco style – so beloved of Riviera owners – that opens up and links the cockpit and saloon into one fabulous, handcrafted space.
---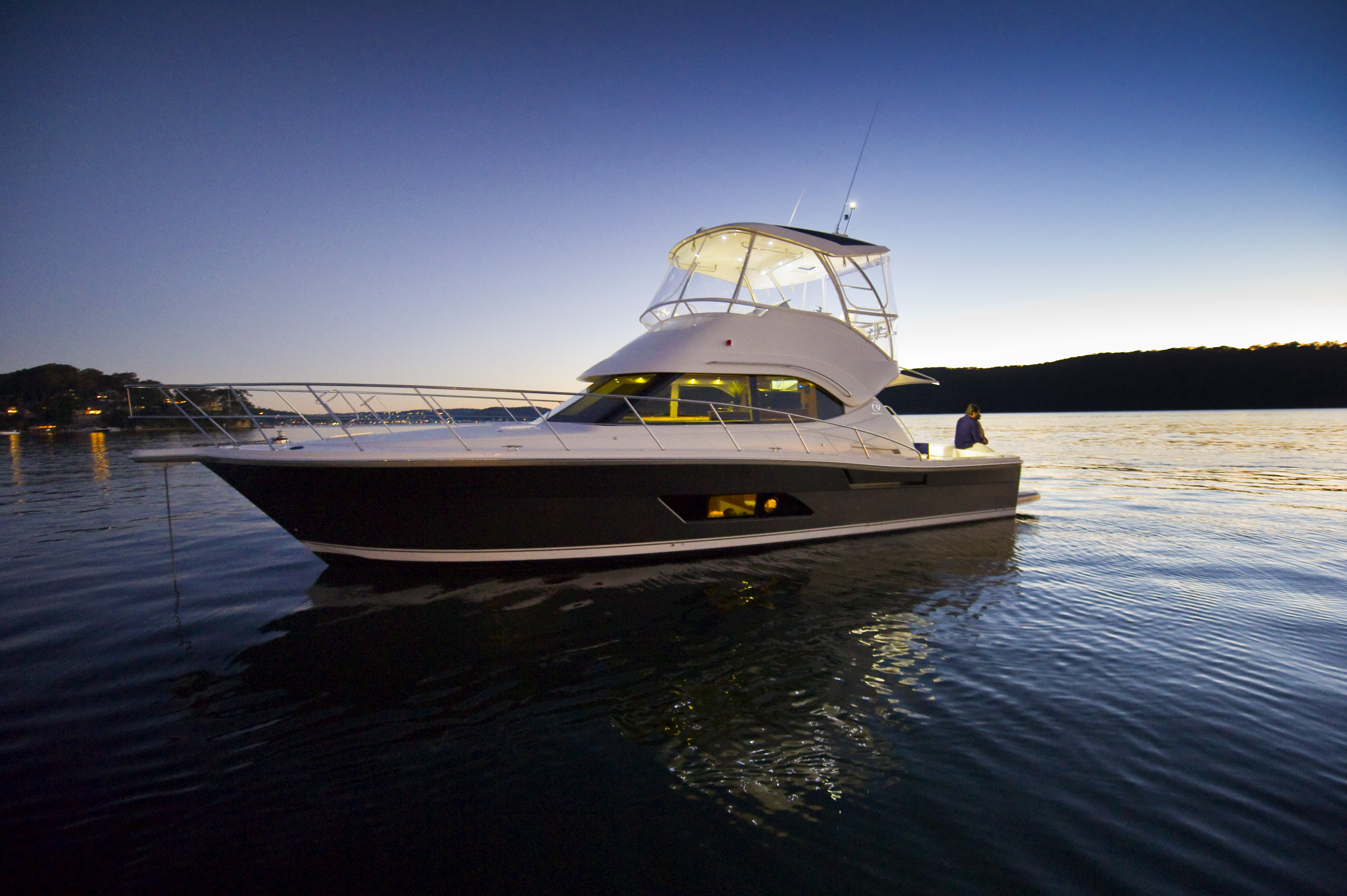 43' RIVIERA OPEN FLYBRIDGE
43' RIVIERA OPEN FLYBRIDGE
It's hard to say which aspect of the Riviera 43 Open Flybridge you'll enjoy most … its capacity for superb entertaining, or great blue-water fishing? Almost certainly the answer will be "both". Friends and family will revel in the spacious, well designed cockpit (with its 'stair ladder' to the flybridge), luxurious saloon, indeed every part of life onboard …
Luxury on a whole other level, class leading for a yacht of this size. Handcrafted, well considered, always welcoming. You'll love retreating to the accommodation deck boasting your master stateroom and designer ensuite, located forward. Love treating your family and friends also to the full beam guest stateroom aft, with its VIP ensuite doubling as the day head.
---
RIVIERA SPORT MOTOR YACHTS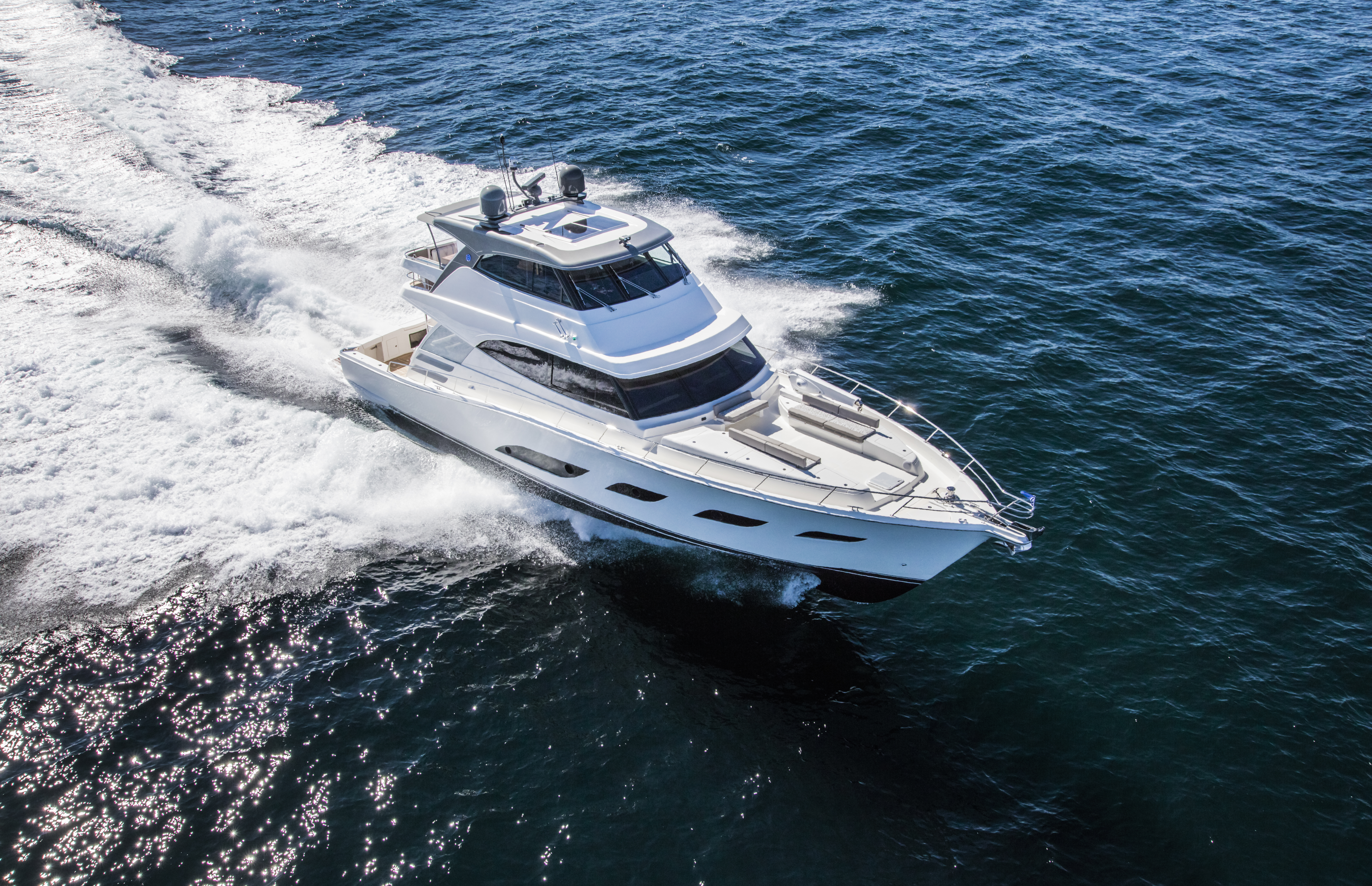 72' RIVIERA SPORT MOTOR YACHT
72' RIVIERA SPORT MOTOR YACHT
Our largest, grandest, most spectacular design yet. Offers an incomparably vast cockpit and covered mezzanine dining area, spectacular standard power and long range capability.
Combines outstanding sports-inspired looks and sports performance with ultra-luxurious interiors.
Features fabulous foredeck entertainment area and enclosed flybridge with internal stairs. Enjoy the luxury of an optional crew cabin or utility space and the surety of wide side decks with raised bulwarks. Your choice of three or four magnificent staterooms and four bathroom designs.
Now experience extended cruising the Riviera Way.
---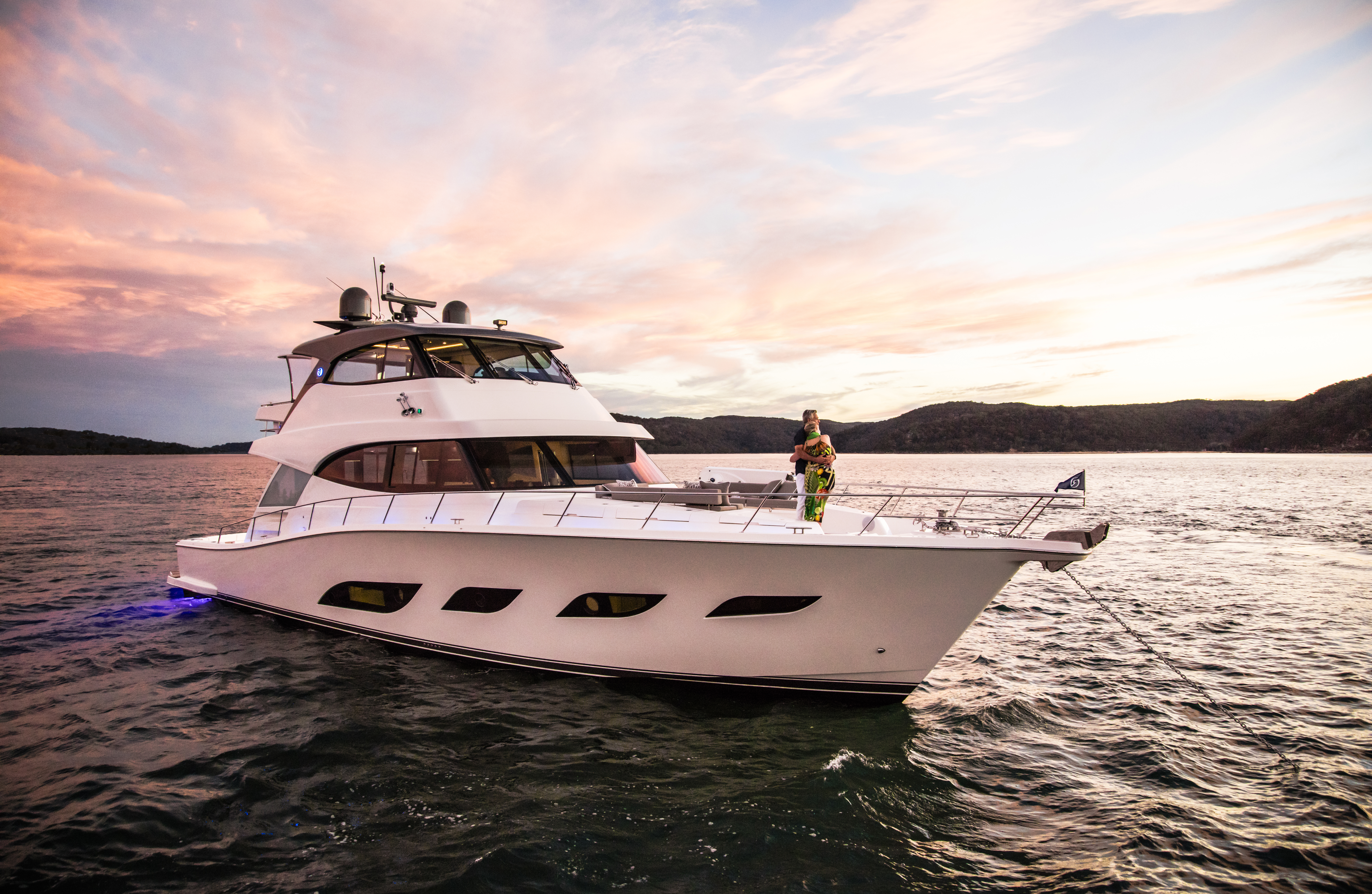 68' RIVIERA SPORT MOTOR YACHT
68' RIVIERA SPORT MOTOR YACHT
Space and style on a grand scale. A stunning meld of Riviera luxury appointments and superior offshore, extended cruising capability.
Revel in sports-inspired looks and legendary performance from V12 MAN diesel engines. Luxuriate in the impressively large cockpit and covered mezzanine area. Discover the magnificent, versatile foredeck entertainment area and enclosed flybridge with internal stairs. There are wide side decks with raised bulwarks for safety, the option of a crew cabin or utility space and an enviable choice of three or four staterooms and three bathroom designs.
Now the most alluring ports in either hemisphere are well within your reach.
---
39' RIVIERA SPORT MOTOR YACHT
39' RIVIERA SPORT MOTOR YACHT
A new style of motor yacht under 40-feet. An enviable combination of class-leading sports looks and performance, with a sporty open flybridge and sports-influenced open cockpit.
Compact and incredibly nimble, finely powered and superbly crafted. Relax in the spacious and stylish saloon, enjoy smooth, quiet Volvo Penta Integrated Propulsion System (IPS) performance, economy and total joystick maneuverability from the main or daybridge helms, take in the view from the open flybridge. Luxuriate in two generous, superbly appointed staterooms and a designer bathroom.
She's been created for family yachting adventures, in true Riviera style.
---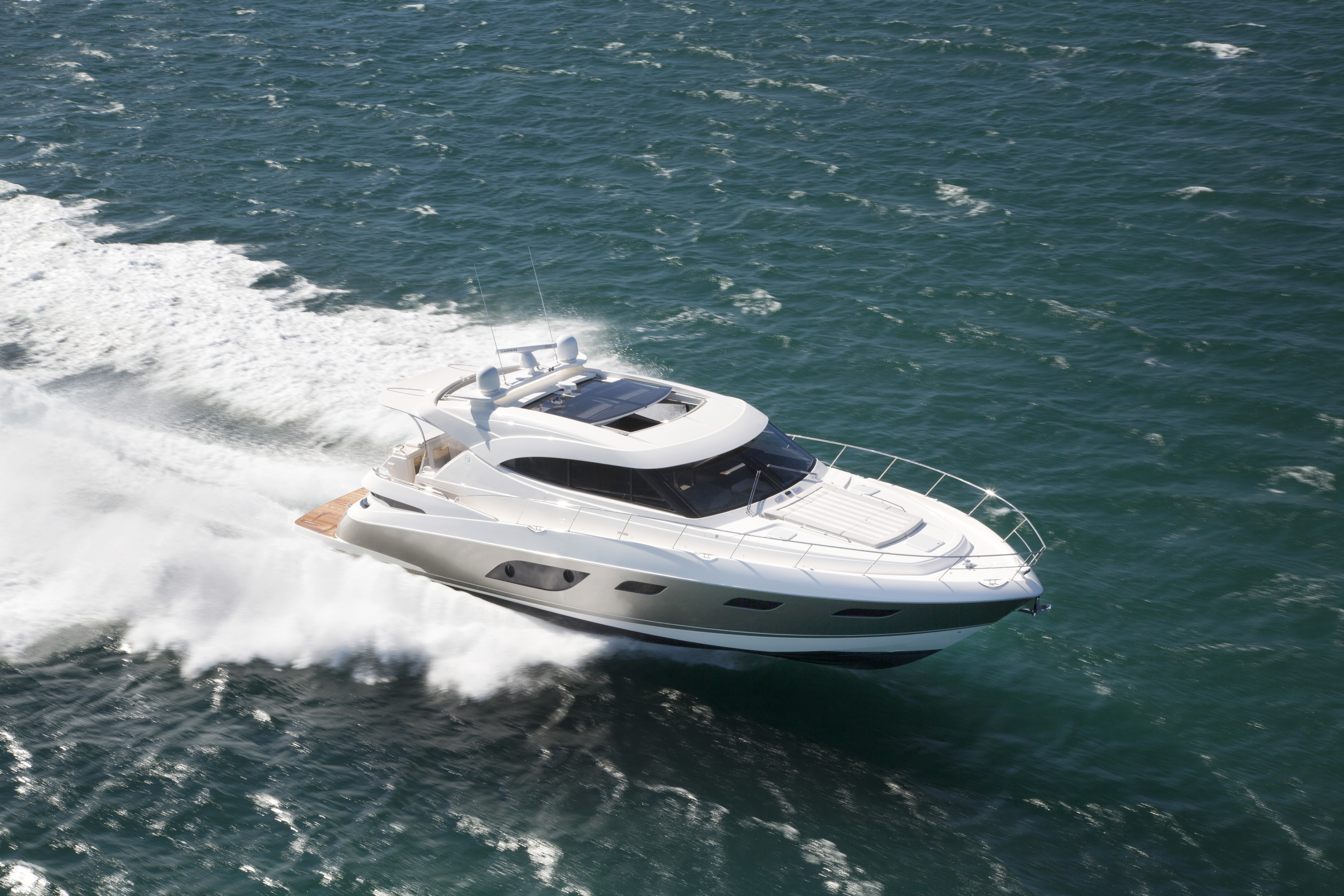 6000 RIVIERA SPORT YACHT
6000 RIVIERA SPORT YACHT
Superb luxury and style aboard the flagship of our Sport Yacht Collection. Enjoy the silky smooth performance, entertaining and cruising on a grand scale. Alive with light, space and finely handcrafted appointments.
Just as life on the 6000 is more enjoyable above deck, it's even more opulent and restful below. We're happy to create your personalised motor yacht with your choice of three or four magnificent staterooms and three designer bathrooms.
---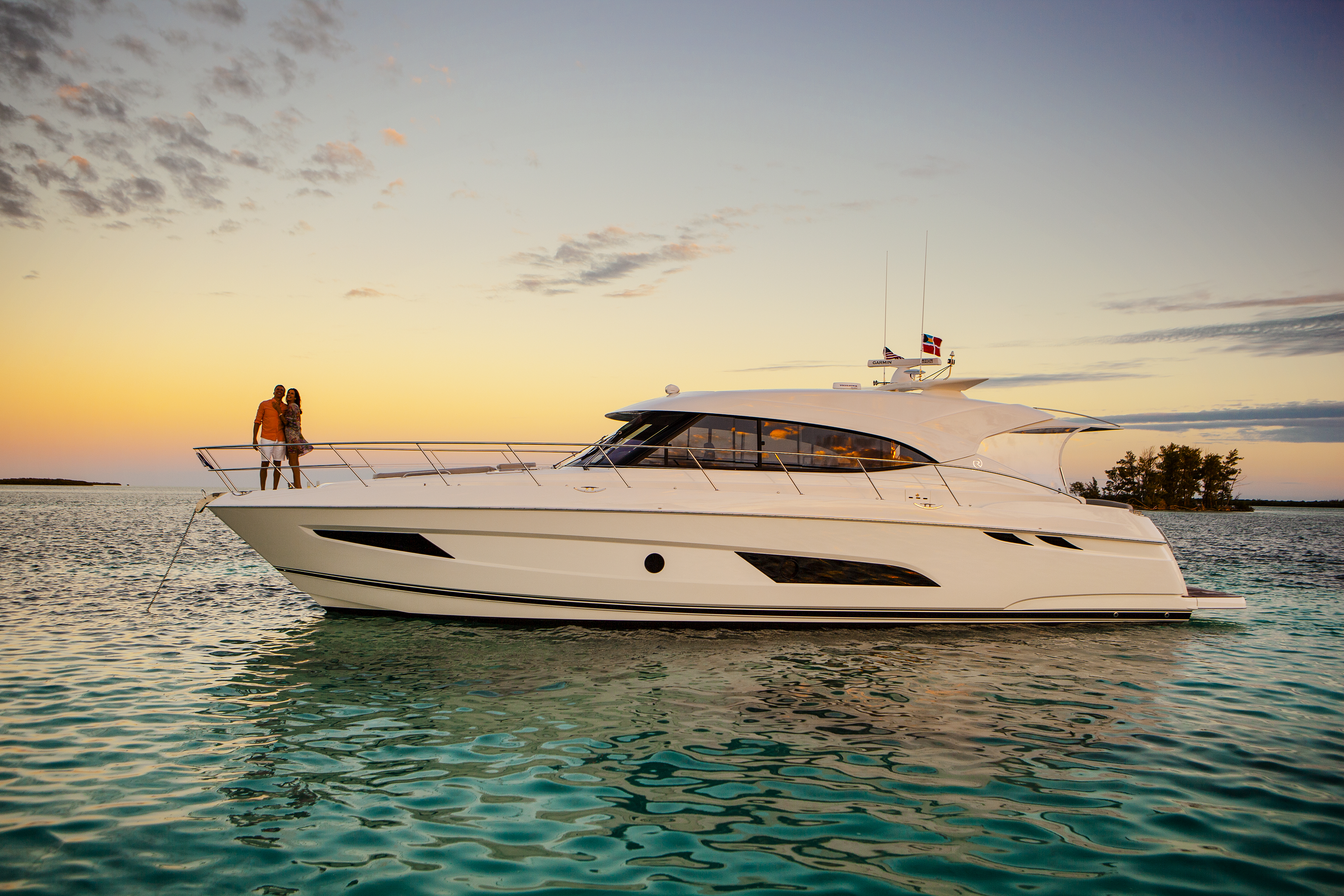 5400 RIVIERA SPORT YACHT
5400 RIVIERA SPORT YACHT
Living your dream never felt so good. Or looked this good. Spectacular design and appointments, dream alfresco, flowing lifestyle. Three magnificent staterooms below. Whisper quiet Volvo D11 engines power twin pod-drives deliver breathtaking performance with fingertip-easy joystick maneuverability.
---
4800 SPORT YACHT
4800 SPORT YACHT
Imagine. Being spirited away. Surrounded by the handcrafted luxury for which Riviera is famous. Large flowing indoor-outdoor spaces, thoughtful design touches, a sense of sophisticated yet utterly relaxed modern living.
The Riviera 4800 is pure luxury, above and below. In the accommodation deck, you'll discover two magnificent staterooms and two designer bathrooms, each filled with natural light and handcrafted luxury.
---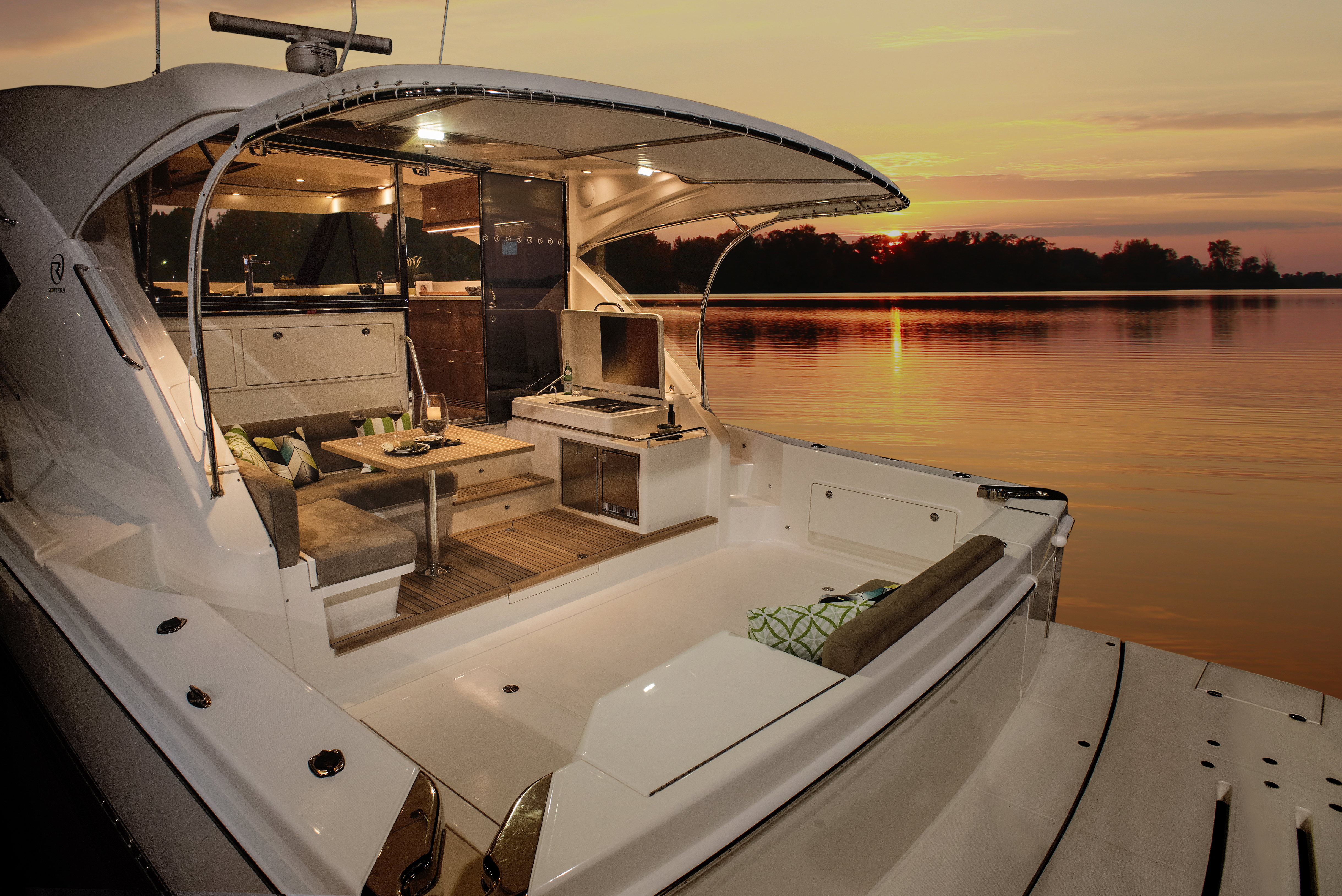 575 SUV
575 SUV
Whether you're treating your guests to a weekend gourmet escape or diving into the wonders of far-off, azure blue waters, this craft is without peer. Alive with light and luxurious handcrafted touches, inspired Riviera design links helm to stern in one flowing, seamless transition that maximises every single lifestyle opportunity. It really has to be seen to be believed.
At the helm, the whole thrust is to make skippering a Riviera 575 SUV as easy as driving a luxury modern car. Large touchscreen displays with an intuitive menu make skippering a joy.
---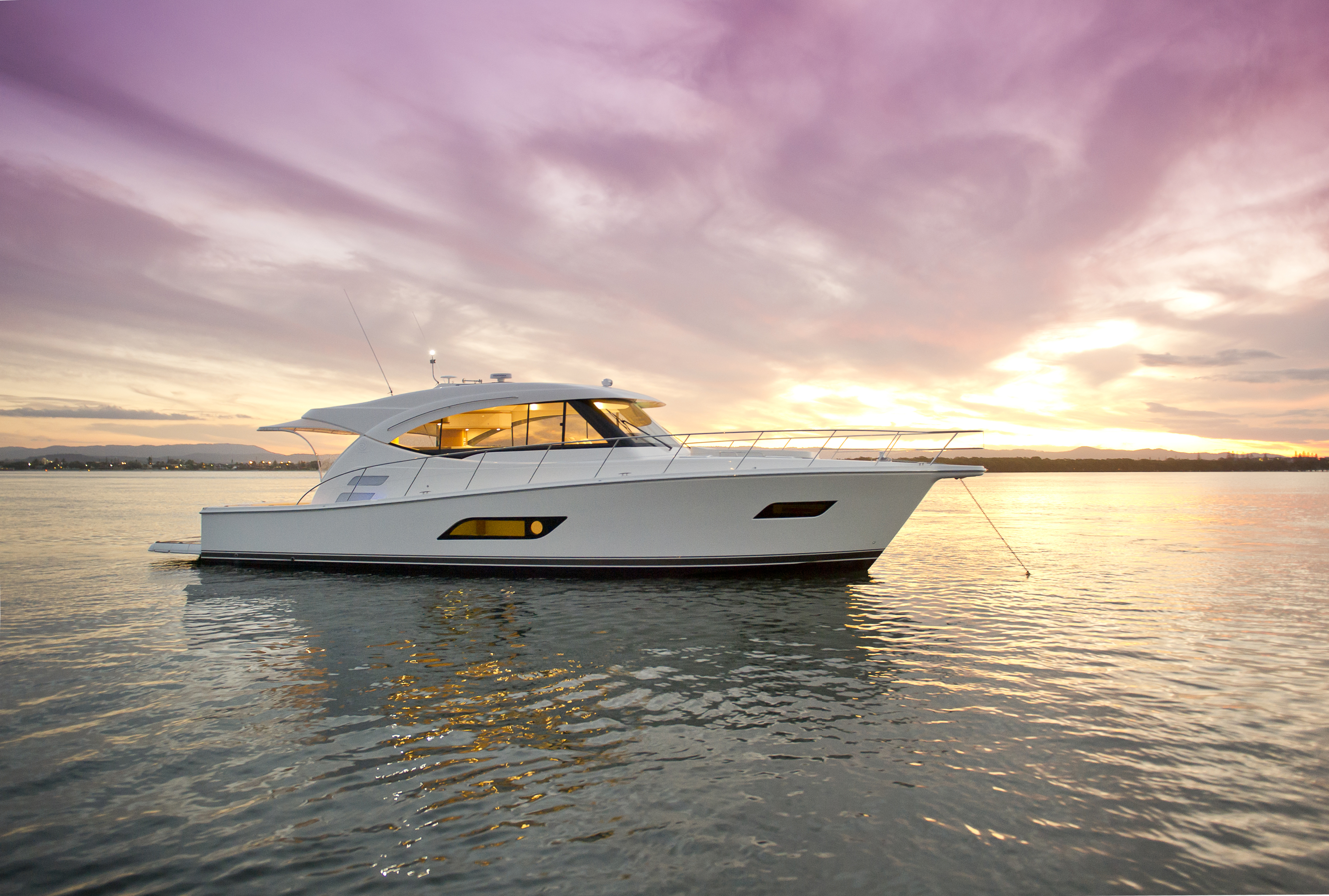 525 SUV
525 SUV
An entirely new class of luxury motor yacht: in effect, two yachts in one. The blue-water performance and open cockpit of our Flybridge Collection, melded with the entertaining and cruising style of our renowned Sport Yachts.
Three luxury staterooms, two designer bathrooms, the flowing inside-outside saloon and galley layout … the wonderful handcrafted touches and quality for which Riviera is internationally renowned.
---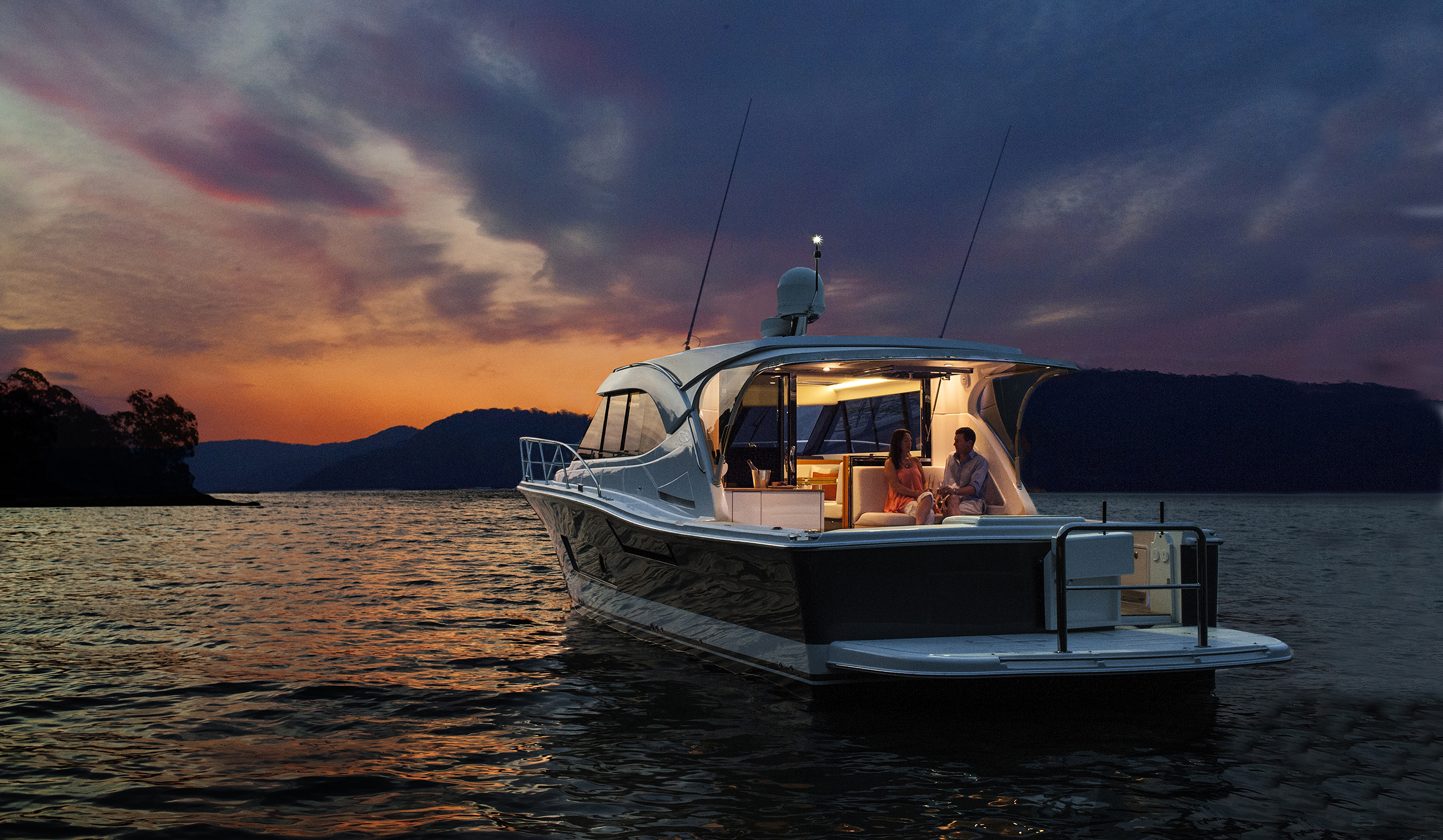 445 SUV
445 SUV
We're inviting you to experience something very special – a whole new class of luxury motor yacht. By combining the offshore pedigree and open cockpit of the Riviera Flybridge Collection with the relaxed, flowing one-level living of Riviera Sport Yachts, we've created a yacht for both the adventurer and entertainer in you – the Riviera 445 SUV.
This is blue-water living on a whole new level… The expansive open cockpit works beautifully in full cruising mode or can be easily adapted for diving, fishing and maximum adventure. Just look at how much friends and family will enjoy the 445 SUV's fantastic flowing, easy living design, not to mention the luxury, light and sweeping saloon views.
---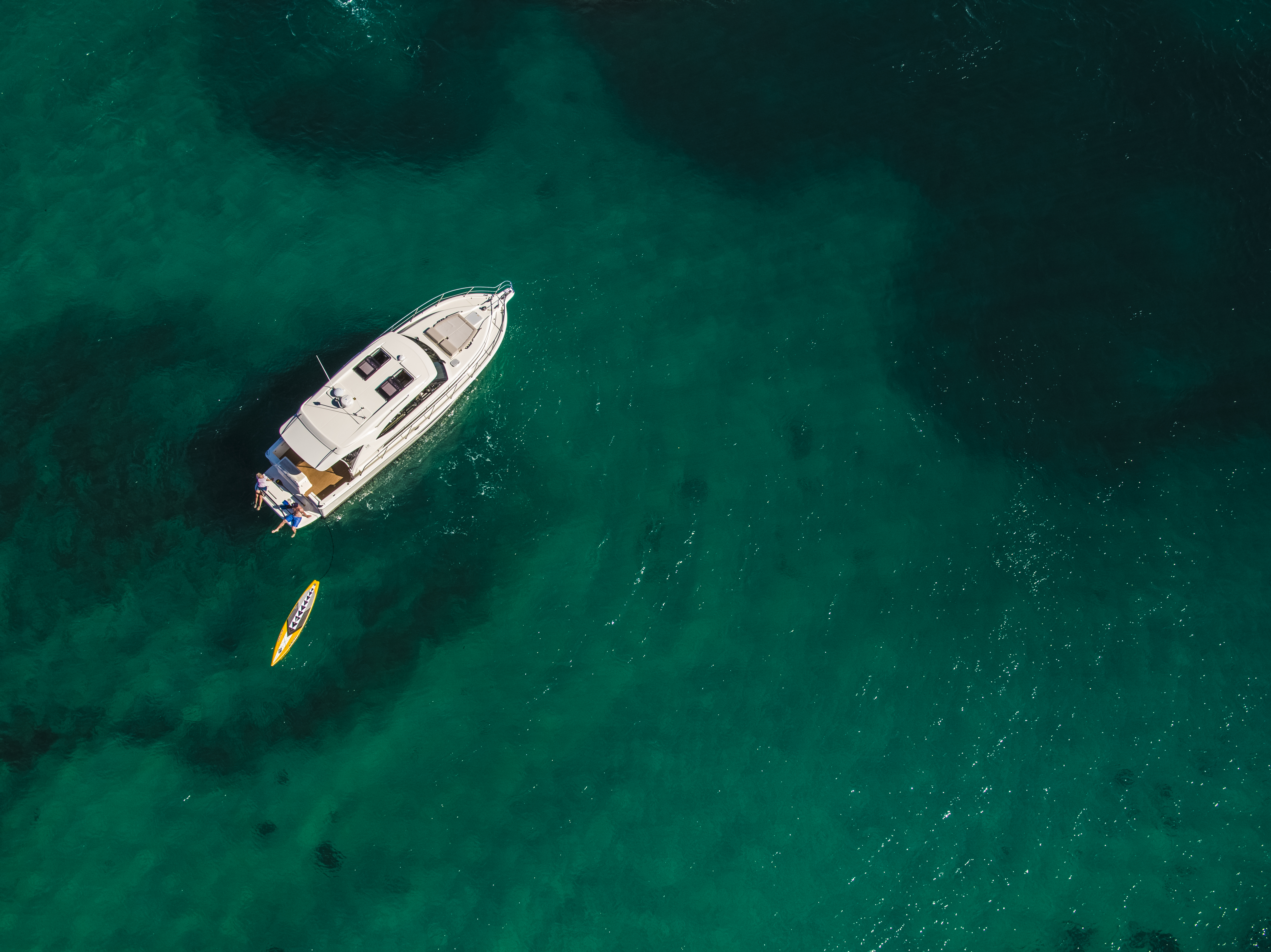 395 SUV
395 SUV
Riviera, pioneers of luxury SUV motor yachting, are proud to introduce our first under 40-foot SUV model. The exciting Riviera 395 SUV: with flowing one-level living, open cockpit, spirited Volvo Penta Integrated Propulsion System (IPS) performance and pinpoint handling. Sensational.
Discovering the accommodation deck you'll quickly appreciate how Riviera design sense and flair makes so much possible. The master stateroom boasts a large walk-around queen-size bed, handcrafted storage and adjacent designer en-suite. Your guest stateroom accommodates up to three adults in signature Riviera style.
---
Contact Us
Addresses
Alameda 1070 Marina Village Pkwy #107, Alameda, CA 94501
Redwood City 101 Westpoint Harbor Drive. Redwood city, CA. 94063.
Your message has been sent. Thank you!